Meet The Web Guys
Meet our tribe of driven, knowledgeable and passionate people with a humble and collaborative spirit. We listen, think, advise and lead our clients on a path to dominate. It's that simple.
Chad Frazell
GM & Director of Sales
I'm an ambitious and driven sales entrepreneur from Zionsville, IN. Graduating from Purdue University in 2007 (Boiler Up!), I moved to Indy shortly thereafter to cut my teeth in the business world. I quickly found the corporate lifestyle unappealing and joined The Web Guys, where I've happily been ever since. I've spent more than 10 years helping grow our agency into a digital marketing power house, serving as Sales Executive, Digital Strategist, Director of Sales and currently General Manager. The most rewarding aspect for me is building relationships with phenomenal people on a daily basis, while providing a service that truly impacts and improves the lives of our partners. Facts About Me: Professional entrepreneur and Under Armour wearer by day. Proud dad of Alexandra "Alex", dog lover, and reality TV aficionado by night. Crossfitter and Old Fashioned drinker. Best dad jokes in all the land. Period.
Chad Smith
Senior Project Manager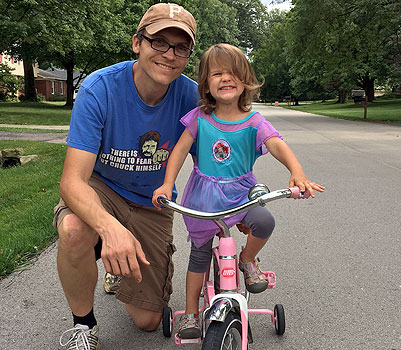 I grew up in western Pennsylvania (God's Country) and moved to Indiana for school. After a number of years here I married my beautiful wife, and we're now parents to two crazy and wonderful kiddos. My favorite activities include cycling, hunting, playing almost any sport, and most of all spending time with my wife and kids. Some of the best things about working at The Web Guys are seeing our clients succeed and building relationships with them. Also, I eat cake in a bowl filled with cold milk. It will change your life.
Lindsey Johnson
Senior Digital Strategist
After working at The Web Guys for more than nine years, I love the family-like culture we've created, the positive impact we continue to make for our client's businesses, and the integrity with which we treat each of our respected customers. I love being surrounded by positive people & continually challenging myself to grow personally and professionally. The loves of my life are my fiancée, our son & two pit bull pups! Our favorite activities include trivia, live music, house renovations (or more accurately, watching shows about other people doing house renovations), trying new craft beers, traveling, and most of all – spending time with our little family. "If there's even a slight chance at getting something that will make you happy, risk it. Life's too short and happiness is too rare." – A.R. Lucas
Ben Tucker
Technical Director
I am a father, husband, Purdue graduate and a tech hungry robot. I love spending time with my family and finding new ways to use technology in my life either at home or at work. I enjoy working hard and will work toward finding a solution for any problem that I face. The harder the challenge, the more fun I have.
Haley Freck
Digital Strategist
Hi, my name is Haley Freck! I enjoy watching videos of dogs on Facebook, taking long walks through the TJ Maxx candle aisle, and adding to my long list of Pinterest cooking/crafting fails. When I am not spending my time with those activities, you can find me trying to reach my goals of: keeping up to date with new digital marketing trends, expanding my knowledge of Adobe, and someday owning a cow farm (but that is a different story). I love the digital marketing industry because it is always changing. It is awesome knowing that things are constantly evolving and people are continuously coming up with new techniques and resources. Catch me at The Web Guys, HOW BOU DAH.
Ryan Smith
Web Design Specialist
I'm Pulitzer Prize-nominated artist with long time background in newspapers who decided to move to the digital world full-time to expand my horizons. I've called Indianapolis, Muncie, IN, and New Orleans home. Good design to me isn't just making something look pretty – it's about putting the research into a project to present it in the easiest, most compelling way possible for the end audience while eliciting an emotional response provided by other art forms. I have three dogs all with very human personalities, and I certainly talk to them as such. I live with my wonderful girlfriend of two years who keeps me on my toes but grounded. I think it's important to learn as many skills as possible throughout life, like self defense, and am currently a red belt in Taekwondo. The NBA, and basketball in general, is my biggest hobby love in life, followed by pro wrestling (OOOOOHHHH YYYEEAAAAHHH!). I play a mean air harmonica. It's never too late to decide to be happy on any given day.
Emmelyn Brandt
Digital Strategist
Well hello, Emmelyn here! In my free time you can find me consuming unhealthy amounts of sushi, playing hide and seek with my dog Margo, or rewatching the Office all too often. I enjoy advocating for people and animals alike, whether it be helping to save elephants in Cambodia or a client reach their marketing goals. Digital marketing became my passion in college because of the fact that there is always something new to learn. It's definitely an industry that keeps you on your toes with new strategies to try. You can find me at the Web Guys munching on some wasabi almonds, listening to my Spotify Discover Weekly and of course getting work done!
Roger Laurendeau
President
Roger Laurendeau is a successful marketing entrepreneur and past corporate executive who has led dozens of digital marketing projects, budgets, teams, and strategies. The representative investments associated with Laurendeau's engagements measure in the tens of millions of dollars. Laurendeau earned an MBA from Wilfrid Laurier University in 2001, going to school evenings and weekends while working a 60 hour work week. He got his start in online marketing in 2000 when he became the Director of eBusiness at ADESA Inc. (now KAR on the NYSE). He served ADESA from 2000 to 2007, playing a key role in the delivery of multimillion dollar platforms like Toyota and Lexus Dealer Direct, GMAC SmartAuction (Canada), ADESA's DealerBlock and LiveBlock systems, and ADESA Market Guide. Roger deciphers the language and power of "IT" to turn it into marketing and sales prowess for businesses. In 2007, he founded The Web Guys; it serves companies through a multitude of digital marketing services. The company succeeds due to its loyal customers and wonderful employees.
Trusted Google Partner
We work hard to maintain our Google Partner status, and we take great pride in managing successful advertising campaigns of all sizes for our customers. Become a valued client and experience The Web Guys premier level of service.